Amazon The April Quiz Answers – Hi guys amazon comes with another new Pay Balance Quiz and here you have a chance to win a free Rs.10000 Pay balance.
Here we provide all details of the Amazon World Maths Day Quiz also provide the right answer of a quiz question. We also provide answers of Amazon Daily Quiz and other amazon live quiz on our website so you can also visit this.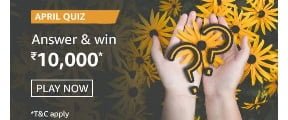 Also, join our Telegram Channel because we give instantly all updates and also provide an instant all quiz answers of amazon and other platforms.
---
Amazon The April Quiz Answers

– Win Rs.10000
Question 1: In 2007, Google's April fool's day hoax was the launch of _______ paper. Fill in the blanks with a Google product
Answer 1: Gmail
Question 2: This day is intended to motivate people to self reflect and do the right things. What is this day observed on April 5?
Answer 2: International Day of Conscience
Question 3: In which over of the innings did MS Dhoni hit the memorable six that sealed India's World Cup win on April 2nd, 2011?
Answer 3: 49th
Question 4: On April 11th, 1968 which US president famously signed the Civil Rights Act of 1968, a week after the assassination of Martin Luther King?
Answer 4: Lyndon Johnson
Question 5: April 30th is observed as the International Day of what genre of music "that New Orleans made famous" ?
Answer 5: Jazz
Question 6: Which movie released in April 2019 and directed by Vivek Agnihotri, is based on the mystery surrounding Lal Bahadur Shastri's death?
Answer 6: Tashkent Files
After giving all 6 correct answers to the Amazon Pay Balance Quiz you successfully entered the lucky draw to win a Free Rs.10000.
---
How To Play This Amazon The April Quiz Answers Today
1. First of all open your amazon app and login into your account.
2. Next step you need to go 'Funzone' or you can search in the search bar 'Quiz' and tap on fun zone
3. Now click on Amazon The April Quiz Answers banner or image.
4. Then click on start quiz button & play Quiz.
5. Now answer the quiz correctly according to our provided answer.
Details

:
| | |
| --- | --- |
| Organiser: | Amazon India |
| Today's Amazon Quiz: | The April Quiz |
| Today's Prize: | Rs.10000 Pay Balance |
| Amazon Quiz Date: | 31st March– 30th April 2021 |
| Amazon Quiz Time: | Any Time |
| No Of Winners: | 5 |
| Winners List Will Be Declared On: | 30th April 2021 |
Current On Going Quizzes:-