Colgate Diabetes Toothpaste Free Sample Product In India, Free Sample In India – Hi Guys Here I Come With Another New Free Sample Product Loot. Here You Will Get Colgate Diabetes Toothpaste Sample For Free So You Can Easily Order This Samples Product At Your Home And There Are No Delivery Charges.
Already Many Users Ordered Colgate Free Sample And Received Just 10 – 15 Days Of Order. We Also Posted Bausch And Lomb Free Sample Contact Lenses So You Can Also Order These.
---
Free Sample In India | How To Order Colgate Diabetes Toothpaste For Free
1. First Of All Visit The Colgate Free Sample Website Offer Page.
2. Now Must Select I Am: Diabetic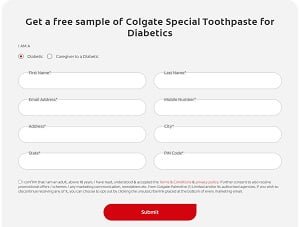 3. Now Fill In Your Basic Details Like Your Name, Email Address, Mobile Number, Address, Pin Code.
4. Done! You, Will, Get Message That – Colgate Diabetics Exclusive Sample Is On Its Way.
5. Enjoy Your Free Loot Of Colgate Diabetics Exclusive Sample.
---
More Free Samples In India
Get Gillette Razor Free Sample | All Over India
Dabur Almond Shampoo Free Sample
Bausch And Lomb Free Sample Contact Lenses
Odonil Room Air Fresheners Free Sample In India
---
Terms & Conditions
1. Must Read All Terms And Conditions Before Participating.
2. This Colgate Diabetic Sampling Offer Is Being Conducted By Colgate-Palmolive (India) Ltd ("Colgate" / "Company") From 1st April 2021 Until 1st April 2022 ("Colgate Diabetics Sampling Offer Period")
3. All Individuals Above The Age Of 18 Years Who Are And Residents Of Indian States Are Eligible To Request For A Free Sample Of Colgate Diabetics Pack Subject To The Terms And Conditions Set Out Herein, Which Will Be Presumed To Have Been Accepted By Him/Her.
4. Purchase Of Any Colgate Pack Including But Not Limited To Colgate Dental Cream, Colgate Active Salt, Colgate Active Salt Lemon, Colgate Active Salt Neem, Colgate Cibaca, Colgate Cibaca Vedshakti, Colgate Swarna Vedshakti Pack Is Not A Condition Precedent To Request For A Free Sample
5. One Can Avail Of A Free Sample By Sharing Necessary Details In The Form Created For This Particular Offer.
6. Each Eligible Form Entry, Once Updated Accurately And Completely Will Be Entitled To Only One Colgate Diabetics Sample (Not For Sale) Pack Of 30g.