Flipkart Daily Trivia Quiz Answers – Flipkart has started Flipkart Daily Trivia Quiz for users to win prizes. Here we provide daily all correct answers of Flipkart Daily Trivia Quiz and also provide full details of quiz.
Join our Telegram Channel because we provide instant many online offers updates and also provide daily many quiz answers like Flipkart Fake or Not Quiz, Amazon Quiz Answers and Oyo Quiz Answers. Our Telegram Channel is very important for you if you want earn some money with online offers and get the many quiz answers.
---
Details & Rewards
| | |
| --- | --- |
| Flipkart Today's Quiz | Flipkart Daily Trivia Quiz |
| Today's Prize | Flipkart Gift Vouchers, Gems and More |
| Quiz Winners | First 40,000 |
Flipkart Daily Trivia Quiz Answers – 1st December
Q1. Which team won 2019-20 vijay hazare trophy
Answer 1: karnataka
Q2. Shahbaz nadeem an indian recently made his tests debut against south africa
Answer 2: left arm spinner
Q3. The ballon d or is an annual football award presented by
Answer 3: France football
Q4. The knockout perfume range was launched by which indian sportsperson
Answer 4: vijender singh
Q5. Who was the first captain of the indian cricket team in test matches?
Answer 5: C.K naydu
Also Read:
---
How To Play Flipkart Daily Trivia Quiz Answers Today
1. First of all open your Flipkart App and go to Game section or click on given below button.
2. Now scroll the page you will see the Flipkart Daily Trivia Quiz banner click on the banner.
3. Click on start survey button.
4. Here you need to give correct answer of Flipkart Quiz
5. After giving all 5 answers of Quiz you will get a surprise gift.
7. Now click on unlock reward button.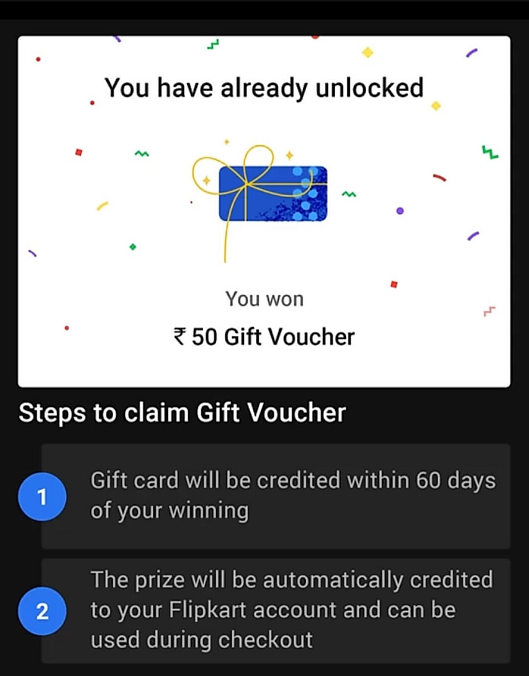 8. Here you will get any free gift like gift voucher or gems.
---
Old Flipkart Quiz Answers
Daily Trivia Quiz Answers – 30th November
Q1. The comedian Sunil Grover played a vital role in which Salman Khan film?
Answer 1: Bharat
Q2. Which fantasy drama TV series was created by David Benloff and D. B. Weiss?
Answer 2: Game of Thrones
Q3. Which international artist featured in Priyanka Chopra's song 'Exotic?
Answer 3: Pitbull
Q4. Which was the last film music composers Jatin-Lalit did together?
Answer 4: Fanaa
Q5. World's first film about Buddha, Buddha Dev was a 1923 film directed by whom?
Answer 5: Dadasaheb Phalke
Daily Trivia Quiz Answers – 29th November
Q1. Anant Khasbardar received INR 50,000 as a reward for designing what logo in 2014?
Answer 1: Swachh Bharat
Q2. Which of these brands is not owned by Tata but by Unilever?
Answer 2: Brooke Bond
Q3. Where in Pakistan is the Swaminarayan Temple located?
Answer 3: Karachi
Q4. Elbow Grease is a book, about perseverance and believing in yourself, written by
Answer 4: John Cena
Q5. Which Indian company was founded by an American John Bissell in 1960?
Answer 5: Fab India
Daily Trivia Quiz Answers – 28th November
Q1. Published in 2013, the race of my life is the autobiography of which athlete?
Answer 1: Milkha singh
Q2. Which of these is an issf shooting shotgun event?
Answer 2: Double trap
Q3. What did the indian government posthumously award the mountaineer edmund hilary in 2008?
Answer 3: Padma vibhushan
Q4. Who has become the 1st overseas player to be drafted for the hundred cricket tournament
Answer 4: Rashid khan
Q5. Recently andy murray won his 1st title since 2017 which one?
Answer 5: European open
Daily Trivia Quiz Answers – 27th November
Q1. What role did the actress Emma Watson play in the Harry Potter movies?
Answer 1: Hermione Granger
Q2. Who among these directed the films 'Dil Dhadakne Do' and 'Luck By Chance?
Answer 2: Zoya Akhtar
Q3. Who is Fred Flintstones' best friend in the cartoon 'The Flintstones'?
Answer 3: Barney Rubble
Q4. Which of these is NOT the name of an actual Bollywood film?
Answer 4: Love in London
Q5. Which Bollywood actor shares his name with a late Malayali filmmaker?
Answer 5: John Abraham
Daily Trivia Quiz Answers – 25th November
Q1. Which London based football team is also known as the Gunners?
Answer 1: Arsenal
Q2. Who is India's first and only World Champion in Athletics IAAF World Athletics Final?
Answer 2: Hima Das
Q3. Who is the youngest tennis player to be ranked world number one?
Answer 3: Martina Hingis
Q4. Which of these clubs is currently managed by a FIFA World Cup winner?
Answer 4: Real Madrid
Q5. Sir Manmatha Nath Roy Chowdhary lends his name to which trophy?
Answer 5: Santosh Trophy