Flipkart Fashion Challenge – Hi Guys I Hope You Are Doing Well. Consumers Earning Is Back With The New Flipkart Fashion Challenge And How To Complete Them To Win Flipkart Free SuperCoins.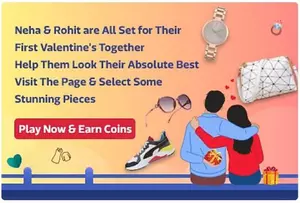 Here Flipkart Comes With New Challenges Called Flipkart Fashion Challenge And Here You Will Get 10 Supercoins Free For Completing All 4 Tasks. Also, We Recently Provided Flipkart Valentine Special Challenge Offer Where You Can Win Free 4 SuperCoins So Also Checkout That.
Join Our Telegram Channel Also Because You Will Get The All Updates There Instantly. We Provide Many Offer There Also So Must Join It.
---
How To Complete Flipkart Fashion Challenge & Earn Free 10 Supercoins
1. First Of All Update & Login Into Your Flipkart Application.
2. Go To The Flipkart Fashion Challenge Section.
3. Open The Flipkart App » Go To Supercoin Section » Click On Earn Coins » Challenges – Click Here To Go Challenge Section (Open In Flipkart App Only)
4. Open The Link In Flipkart App You Will See The Flipkart Fashion Challenge Banner Then Click On The Tap To Participate Button.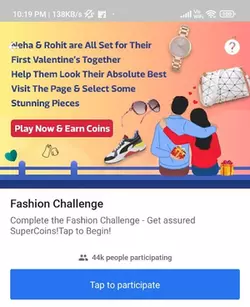 5. Now Complete All 4 Easy Challenges.
1. Visit The Belts & Wallet Page And Explore The Best Deals!
2. Add To Cart Any 1 Favorite Product.
3. Wishlist Your Favourite 2 Sunglasses Of Your Choice
4. Add To Cart Your Favourite 2 Handbags.
6. So Total You Earn 1+2+3+4 = 10 Supercoins For Free From This Flipkart Fashion Challenge.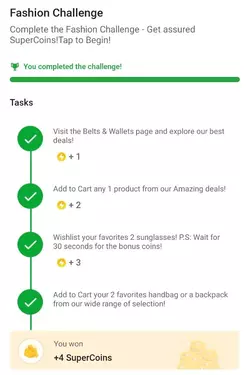 Also Read: FreeCharge UPI Cashback Offer | Send Money & Get Flat ₹15 Cashback
---
FAQs On Flipkart Challenges
Q: What Are Flipkart Challenges?
Ans: Flipkart Challenges Is A Way For You To Win Rewards On Flipkart. All You Need To Complete Some Easy Tasks On The Flipkart App. At The End Of Each Task That You Complete, You Will Stand A Chance To Win A Reward In The Form Of Supercoins Or Discount Coupons.
Q: How Can I Complete Flipkart Challenges?
Ans: You Will Have To Visit The Challenge Details Page By Clicking On The Flipkart Challenges Banner On The Home Page/Push Notification That You Will Get. On The Challenge Details Page, You Will Have To Click On The "Tap To Participate" Button In Order To Activate The Challenge.
Once The Challenge Is Activated, You Will Be Able To Click On And Complete The First Task. Once You Complete The First Task, Your Challenge Details Page Will Show That You Have Completed One Out Of Four Tasks, And It Will Also Show The Amount Of Time Left For Your Next Task To Unlock.
---
Terms And Conditions Of Flipkart Fashion Challenge
The Contest Is Available Only For India And Indian Users.
The Contest Period Shall Be From 7th February To 14th February 2023 ("Contest Period")
This Contest Is Available Only For Consumers/Customers Not For Resellers Of The Products.
Rewards Will Be Credited To Winner's Flipkart Account Within 48 Hours
Your Mobile Number Is Must Verified With Your Flipkart Account.
All The Rewards Is Valid For 1 Year So You Need To Use It Before It Expires.
📣 Don't Forget To Join @Consumersearning Telegram Channel And Stay Updated With The Latest Loot & Deals