Google Home Mini Game – Hi guys we are back with another loot of google mini-game so must read the full post to know about all offers details of offer.
In this post we provide the details of the Home Mini Game and How to get Home Mini for Rs 499 so this is a huge offer for all users. by playing the mini-game you can get coupon of buy google home mini just for 499rs.
Join our Telegram Channel also because we provide instant updates of all offers and also provide some earning tricks and tips so don't forget to join our Telegram channel so you never miss any big loot.
---
How To Play Home Mini Game
Follow The All Given Steps Carefull To Get Home Mini 499 rs Only
1. First of all just Open Google Assistant in your smartphone (Long press home button to open assistant)
2. After opening Google Assistant now speak hey google "Play Home Mini Game"
3. Then you will show the page like given below with 4 tasks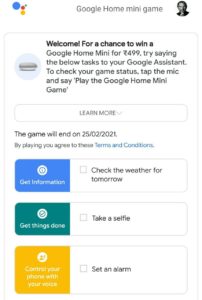 4. Now you need to complete 4 tasks that given in the page (Daily Different Tasks)
1st Time Tasks Ask Google : Ok google play google home mini game
"Hey Google , Say Weather About Tomorrow "
"Hey Google , Set An Alarm"
"Hey Google Take a Selfie"
"Hey Google , Play Youtube video"
5. Now complete all 4 tasks
6. After completing all tasks again open Google Home Mini Game and you will get your coupon code.
Note: Try Daily @12AM because there are limited Coupon codes
7. After getting coupon code you can redeem in Flipkart to get Google Home Mini in 499rs
---
100% Working Trick To Win Google Mini
1. First of all Open your google assistant and search Google mini game
2. Now complete 3 tasks and only left 1 task.
3. Now, at 11:59:45 complete your last task exactly at that time.
4. Then sharp 12AM go speedily to the home mini-game and claim your voucher code.
5. If you follow the Trick properly so there is a very high chance to get the voucher and this is a personally verified trick so must try it today.
Unboxing Of Home Mini
Also Read: