Google Pay Go India Kolkata Event Answers – Hi guys Google pay coming with new event in Go India offer so here we provide the details and also provide the answers of Kolkata event when event is live. In this event you need to answer 5 questions correctly to get Scratch Card Worth Rs. 5 to Rs. 100
Gpay Go India Nainital event is starts from 25th to 26th December and after giving all right answers you will get a Scratch Card.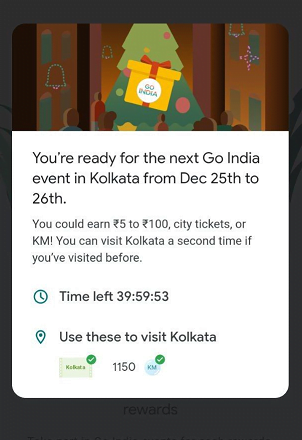 Join our Telegram Channel to get all instant updates of Google pay Go India offers and others latest offers. We also provide the giveaway of Go India rare tickets like Baster, Kochi, Varanasi, Nainital and others so must join telegram channel.
---
How To Play Go India Kolkata Event
1. First of all Download or Open Google pay app
2. Now click on Gpay Kolkata Event offer banner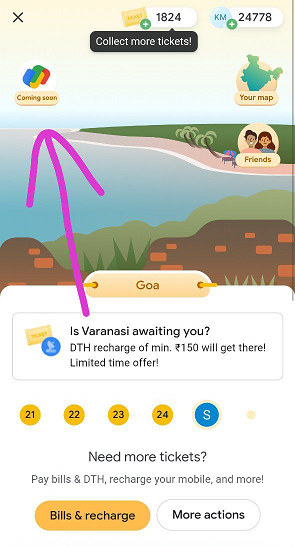 3. Now you need to visit Kolkata city to start the event
4. After visit click on start the event button
5. Now you need to give all correct answers of 5 questions
6. We provide all correct answers given below (After starting the event)
Also Read: [Verified Trick] How To Get Rare Tickets In Google Pay Go India Offer
Go India Kolkata

Event Quiz Answers
Park Street
All of These
Shukto
Eden Garden
Never Open Gpay or Enter UPI to Receive Money
1984
Rabindranath Tagore
We Are Adding More Answers Soon….Stay Tuned
Go India Kolkata Event Full Questions And Answers
1. Mother Teresa Sarani is decorated during X – Mas. How else do we know it?
Answer : Park Street
2. Puchka is also known as?
Answer : All of these
3. Which os the following is not a Bengali Sweet?
Answer : Shukto
4. The 3rd largest cricket stadium in the world (in kolkata) is known as?
Answer : Eden Gardens
5. Your receive a call on the Eve of Christmas stating that you have won a Rs.5 lakh "festive lottery". You just need to scan a QR Code, enter your UPI PIN within the next 2 hours to claim it. You Should :
Answer : Never open GPay or enter UPI to Receive Money
6. Since when is the Kolkata Metro Operational?
Answer : 1984
7. At the Jorasanko Mansion, which Bengali legends' home would you see?
Answer : Rabindranath Tagore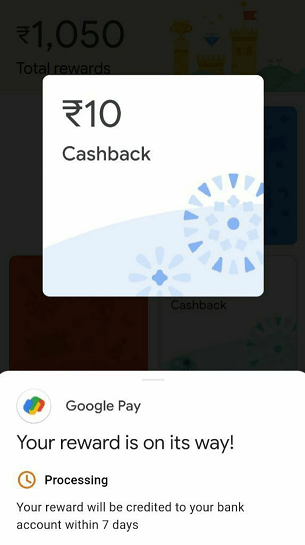 Also Read: [Working Trick] How To Get Free Goa Tickets In Google Pay Go India Offer
Go India Go Tickets Giveaway
We sharing free Goa and other tickets giveaway on our Telegram Channel, so must join our Telegram Channel to free tickets like Goa, Kochi, Baster, Gaya and others.
Join Consumers Earning Telegram Channel For Google Pay Go India City Tickets Giveaway