My Jio FunZone Trivia Quiz Answers Today – Hi Guys I Hope You Are Doing Well. Consumers Earning Is Back With Another Quiz Answers Of Jio FunZone Trivia. Play Jio Trivia Quiz And Win Free Jio Data, Discounts Coupons, And Many More Rewards.
The Jio Funzone Trivia Is A Daily Challenge Quiz. You Can Participate Daily In This Quiz And Answers The Quiz Questions To Win Free Rewards. We Recently Provided My Jio Nestle Face Of Hope Offer And Jio Cadbury Madbury Offer So Also Checkout That To Win Free Jio Data.
Must Read The Full Post To Know About This Jio Trivia Quiz And Also Don't Forget To Join Our Consumers Earning Telegram Channel To Get All Offers Updates.
---
My Jio FunZone Trivia Quiz Answers Today | 19th October 2021
Question 9: Which Is You Favorite Type Of Car?
Answer 9: Sports Car
Question 8: Ford Is A Automobile Manufacturer From Which Country?
Answer 8: USA
Question 7: How Many Rings Are There In The Audi Logo?
Answer 7: 4
Question 6: What Does 4WD Stand For?
Answer 6: 4 Wheel Drive
Question 5: Which Of These Car Companies Is Not From Germany?
Answer 5: Tata
Question 4: What Is The Slogan For Honda?
Answer 4: The Power Of Dreams
Question 3: Hyundai Is A Car Company Founded In Which Country?
Answer 3: South Korea
Question 2: Which Of These Automobile Companies Is Based In Japan?
Answer 2: Toyota
Question 1: Which Company Manufacturer The AMG Series Of Cars?
Answer 1: Mercedes Benz
---
My Jio Fun Zone Trivia Quiz Offer – How To Play And Win Rewards
1. First Of All The Download/Update My Jio App From The Play Store.
2. Now Open App And Login Using Your Jio Mobile Number.
3. Go-To Jio Engage Section From Dashboard.
4. Now Click On The 'Funzone' Tab.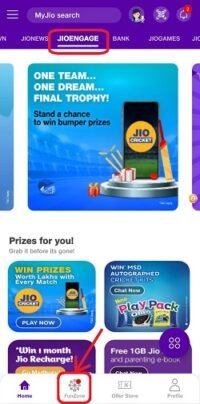 5. Now Answer All 9 Quiz Questions Correctly To Win Exciting Prizes.
6. Done!! You will Congratulations! Message.
7. Then Just Get Your Exciting Rewards, Vouchers, Free Data, And Offers.
8. You Can Participate Daily In FunZone Trivia To Win Prizes. So Play The Jio Trivia Quiz Answers Daily Ans Win Assured Rewards.
Also Read:
---
FAQ's Of Jio Fun Zone Trivia Quiz
Q: What Is My Jio FunZone Trivia Quiz?
Ans: Jio FunZone Trivia Is Daily Quiz Where You Need To Answer The 9 Quiz Questions And You Can Win Prizes Like Free Data, Vouchers, And Many More.
Q: How To Get 1 GB Jio FREE Data?
Ans: Using Jio FunZone Trivia Quiz You Can Easily Claim 100MB Or 1 GB Free Jio Data. Follow The Steps That We Provided And Get Your Free 1 GB Of Data.
Q: How Will I Know If I Am The Winner Of Jio FunZone Trivia Quiz?
Ans: Prizes Will Get Reflected In 'My Winnings' Tab Under 'Prizes' Section Of The Campaign.
---
Terms And Conditions
This Offer Is Avaliable From 2 September 2021 To 1 December 2021.
You Need To Be A Natural Person Acting For Purpose Outside Your Business Or Profession, And Citizen Of India;
You Should Be An Individual Legal Resident Of The Republic Of India;
Your Age 18 Years Or Above At The Time Of Entry Into The Campaign;
You Shall Be Legally Competent To Enter Into Binding Contract Under The Applicable Laws Of India.
📣 Don't Forget To Join @Consumersearning Telegram Channel And Stay Updated With The Latest Loot & Deals